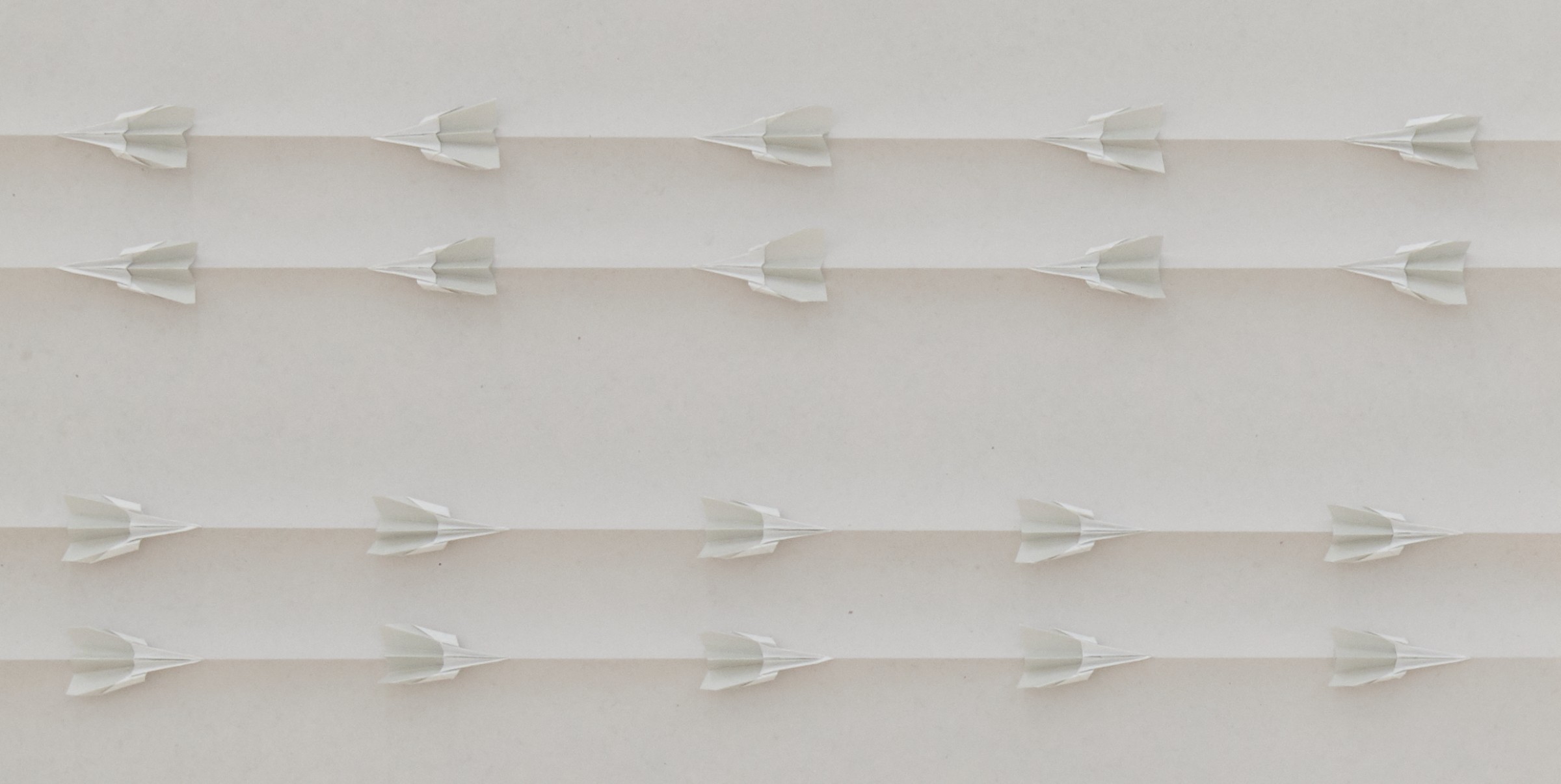 Marie Gyger
Armstrongs Don't Care
27 October 
– 03 December 2022
Opening
Wednesday 26 October
18h–20h30
We are pleased to present the first solo exhibition by Marie Gyger (*1989) in our gallery. In Armstrongs Don't Care, we will show new works by the Swiss artist, including one installed in situ.
Marie Gyger's work is distinguished by an elegance and formal refinement which functions as a veil over a contained yet smouldering critical charge. The repetitive patterns of the folds she meticulously produces both reveal and disguise. At first view, their delicate appearance discreetly wards off evidence of the anxiety-inducing traits of everyday life, yet all the while they simmer beneath the surface.
Gyger's peculiar economy of means and the poor materiality of the work address the frequently absurd overproduction in contemporary art to which she reacts as an artist by developing her light and recyclable paper-folding technique. Several of the works on view were made last summer in her former Paris studio, have since been recycled, and now re-created for the current exhibition. This is an intentional rupture with logistical burdens, ownership, paper trails, and all the questions behind them. 
Gyger's works are handmade, but not in the sense of craft with an emphasis on the "artist's hand". As if in a small factory, she works "by hand", but in a standardized manner. Just as paper is an affordable and recyclable material, folding (Origami) is a modest technique that exists autonomously. The procedure is based on basic Euclidean geometric rules that allow to reflect upon the world in a very small scale as in a child's game. Each form that Marie Gyger folds is measured against the paper from which it emerges and within the space that is allotted to it. Like cells halve themselves to multiply, the repetition starts with the double, one becomes two and increases by implements. The motif of the double folds itself into the work by the recurrent use of the diptych and the way she plays with double entendre. 
It is precisely from the two-dimensional space of the sheet of paper that Gyger creates forms in three dimensions. These worlds become mental spaces populated by haunting motifs, articulated in their multiple physical and psychological dimensions. Her compositions evoke Clarice Lispector's descriptions of quiet, luminous domestic spaces which subtly invoke traumatic imprints. The bottles and the glasses which twirl around playfully testify to sharing, to the party but also to alcoholism, excess, and social exuberance which leads to drama; the hands symbolize  social relations, friendship, but also business deals, trafficking and dirty hands (avoir les mains sales); The folded shirts evoke care, a tidy home, but also the work environment and its homogenized uniforms that refer to Kafkian visions as much as to the cells of Peter Halley. 
Repetition is a versatile literary and artistic device: to repeat is both meditative and nerve-racking; reduction as much as excess; a technique for learning as much as it exhausts meaning; and repetition is reassuring when it is a routine but it becomes terrifying when it is submerging. Gyger uses the apparent innocence of signs to exploit their ambivalence and reveal their underlying tragedy.
Marie Gyger (*1989) studied Art history at the University of Fribourg (Switzerland), 2009–2014; and Art in the Art schools of Utrecht (Netherland) and Bern (Switzerland), 2015–2018.